Local Hearing Success Stories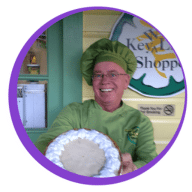 "Dr. Michelle put me at ease instantly"
I knew I had a hearing challenge when my employees complained that they were talking to me and I was not listening. I feared that they [hearing aids] would stand out, as others look at your face not your ears.
I decided to seek help from Dr. Michelle, and I was put at ease instantly. Dr. Michelle is super nice yet very professional.
Hearing aids have changed my life, I can hear everything. If you are thinking of getting your hearing tested, don't look any further.
– Kermit C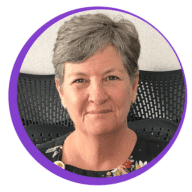 "Don't wait to get your hearing checked"
Hearing loss was gradual but very concerning due to my career at the time. I was 45 and not keen on the idea of needing hearing aids.
Dr. Michelle was and still is so empathetic, understanding, smart, kind, and bubbly.
My newest ReSound hearing aids are amazing. I have a Bluetooth TV device and so now I can watch TV without closed captioning and without blasting the volume.
Don't wait to get your hearing checked! It's a life-changer, and Dr. Michelle is the best choice.
– Jenny B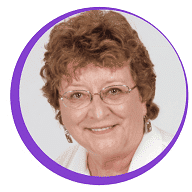 Jane Feared Wearing Hearing Aids Due to Memories of her Grandmothers Frustrating Experience But Meeting Dr. Michelle Changed Her Perspective on Healthy Hearing
I was not pleased. My experience with hearing aids was witnessing my grandmother who turned "the darned things" off because they annoyed her so, and annoyed us, too, because they frequently buzzed loudly.
To help me choose a local hearing aid provider, my ENT gave me a list of her recommendations.
Dr. Michelle stood out. Not only because only is she a highly qualified audiologist, but because she is a warm and caring human being.
She has very high standards and was not content with my hearing correction until I was. I'm sorry to have moved out of the area, because, although I've found a competent audiologist in my new location, the approach is very clinical.
I know several people with hearing loss who won't wear their hearing aids, either because they're uncomfortable or because they want to avoid the stigma of old age that is so often associated with them.
Dr. Michelle made sure mine fit comfortably and helped me understand the enormous benefits of wearing them that extend far beyond simple hearing and that they're virtually invisible.
I always felt confident that she was applying her medical knowledge acquired during years of study to optimize my hearing, rather than just trying to sell me hearing aids like so many providers do.
I'm happy in my new home, but I wish I could have brought Dr. Michelle with me when I moved. She's one of a kind!
– Jane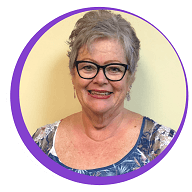 Why A 64-Year Old With 9 Grandkids Was Worrying That Hearing Aids Would Make Her 'Look Old' and How Dr. Michelle has Changed Her Entire Perspective and Life
I am a 64 year-old-wife, mother, and Grammy to 9 grands. I manage a law office, write as a columnist for a local paper and also volunteer in the community.
Prior to meeting Dr. Michelle, my perception of audiology and hearing care was that it was for "old people" and I did not classify myself as being "old". For a good while, my husband kept telling me that I was not hearing him.
I thought it was "selective" hearing but then one day I was rocking my grandbaby to sleep, and my daughter came into the room and spoke softly to me.
I nodded my head but did not hear her. Later she asked why I didn't put the baby on her back in the crib when she told me to do so.
I had to admit that I never heard her say anything and she then responded, "You know Mom, Papi is right and you need to get your hearing checked."
My initial thoughts when I met Dr. Michelle were how professional she was, how she listened to my individual concerns and how helpful she was to solve my problems.
I truly feel that Dr. Michelle cares deeply for her patients. Although my hearing loss was not severe, she listened to me as I explained and validated my concerns.
She treats you like family and when you call with a concern after receiving the hearing aids, they can easily readjust or program the levels to meet your needs.
The most life-changing thing about having my hearing aids fitted with Dr. Michelle is that now I enjoy being with people.
Prior to getting my hearing aids, I did not enjoy being in large groups such as going to breakfast on Sundays with my church friends as I could not follow conversations at the table.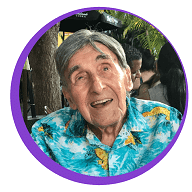 Why Samuel, a 97-Year Old With Profound Hearing Loss Turned to Dr. Michelle in Need of Help to Ensure He Wouldn't Lose His Two Favorite Things, Listening to Music and Telling Jokes
My name is Samuel DeRita and I am 97 years old. I have had profound hearing loss for the last 50+ years and have worn a hearing aid for 30+ years. I am completely deaf in my right ear and have minimal hearing in my left.
I frequently have my hearing tested and am always open to any new technology that can make my quality of life the best it can be.
Hearing is a key component to my quality of life since I enjoy listening to music and telling jokes.
I have been experiencing an increased difficulty hearing with my most recent hearing aid and have recently moved to the area.
After reading many reviews, I decided to make an appointment with Dr. Michelle based on the positive comments.
Dr. Michelle is patient, kind, and determined to give her patients maximum results.
With my experience, other audiologists do not even compare to Dr. Michelle. She is truly a special unique person that is passionate about her patients.
She is very patient even in difficult and frustrating situations. She takes her time to truly listen to her patient's concerns and makes it her mission to find them the best solutions.
– Samuel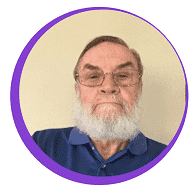 "Why I Happily Travel Over 2600 Miles For My Hearing Care"
My name is Bob Sigler and I'm a retired teacher.
I spend three weeks each month in Nevada with my son. I visit to help with the grandkids and with the simpler maintenance tasks like cooking and standing in line for license renewal.
I spend one week in the keys each month as I am not prepared to give up my independence and to keep the salt from taking my house.
I am 77 and have been wearing aids for more than thirty years. I believe that Dr. Michelle is my 7th audiologist.
Because I was a teacher, I was very sensitive to my hearing loss. You can't teach if you cannot understand your students.
I was fortunate in that my first audiologist was also very good. The five or so in between varied in quality but were at best adequate so I was very pleased to discover that Dr. Michelle was the best Audiologist I have had.
My hearing loss is now substantial and fine-tuning my aids is very important to me.
As the things that are important in my life change, I want to change the settings on my hearings aids.
As hearing aids have become more sophisticated the range of possible adjustments has greatly expanded.
Most hearing aids are fairly similar today. To some extent, you get what you buy. This is a substantial purchase that will continue to provide service for the rest of your life.
– Bob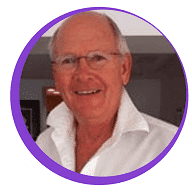 The Three Things That Retired US Army Veteran Loves About Working With Dr. Michelle
I'm a 73-year old male that served in the US Army for 28 1/2 years and then worked in industry for another 13 years. I retired totally and permanently in July 2009.
My ears and hearing were checked regularly in the Army and for the last part of my working life.
I had very little, if any, Hearing Care other than to have my hearing checked regularly and to have occasional ear irrigation.
After my permanent retirement in 2009, I noticed a series of times when I could not hear voices and other sounds I knew I should be hearing – female actors in movies, TV shows, my yoga instructor giving instructions softly, my female partner speaking to me, conversations in restaurants and at parties and more.
I knew that I needed to have my hearing tested again, and, more importantly, I knew I needed to consider hearing devices as part of my Hearing Care.
The top three things I like about Dr. Michelle are:
1. Her knowledge of audiology and the hearing products she recommends
2. The wonderful way she explains what one needs to hear better and allows you to try out her products
so you can see for yourself
3. Her super warm and friendly personality.
Lastly, I like working with Dr. Michelle so much that I readily refer many of my friends to her and they like her as well!